OK, you've decided to take the plunge and start your new home project by modifying an existing plan or starting from scratch. You've downloaded the
and looked over our other forms and determined what value they have in your specific case. You've selected your lot/site and have a survey/plat with all the dimensions/bearings, and you have an idea where you want the garage. Fill out the
by measuring the rooms in your existing home and enlarging them the very minimum you can live with. The house will get big enough by itself; you can enlarge it after the preliminary design. Make sure that you address the sizes for the garage and porch, as well as the living areas. These areas have a pronounced economic impact. Take as much time as you need for this process to make sure you will be happy with the new room sizes. Now you're ready to call our office for an appointment when ALL THE ADULT members of the household will be able to attend; this is very important. Most first meetings take about two hours and we are typically available within a week of your call, but this varies on our workload.
FIRST WORK SESSION
- Bring all your notes, the filled out
DESIGN WORKSHEET
, survey/plat, photographs, any of our other forms you found relevant, and any of
our plans that might be a starting point or that have something you would like to incorporate into your home. Feel free to bring magazine articles with pictures of homes you admire for us to understand your preferences, however, we won't be able to use a plan from another designer because it is copyrighted. Once we have determined the extent of the work, we will provide you with an estimate based on the total footages of the plan so you will know what to expect. We have a very simple contract form which explains our fees, how they are paid, what's included, what's not, and additional available items. We then discuss your goals and how to best achieve them within your parameters, whether we are adjusting an existing plan or starting from scratch. We will ask you many questions, some of which you probably haven't even considered such as: What are the odds you might have an injured relative stay with you for a extended period of time? Small, inexpensive modifications at this time would make this future issue much easier to deal with. When we are all convinced that we have gathered enough information, we will end the session giving you a completion date. You are welcome to schedule the review meeting at that time, or wait until we give you a call.
FIRST REVIEW
- Your Preliminary Sketch will be ready no later than ten working days from the first work session (see DRAWINGS LIST). As discussed in the previous meeting, your first installment will be due with this review. We do need to meet to discuss all aspects of the preliminary and make sure you understand the drawing(s). You won't need to make ANY decisions at this time. You should take them home to think about, and discuss them, as there will likely be many questions to consider. We can schedule the next work session, or you can call at your convenience for an appointment. Remember, we are typically a week out for appointments. Prior to the second work session, you should look over what is to be done in the next session outlined here and in the "Preliminary Sketch Note" on your drawings. Being prepared with these answers will make for a more productive session.
SECOND WORK SESSION
- This is where we talk about any revisions to your sketch. We will discuss those concerns and develop ideas for their solutions. We will then move on to discussions about the front elevation and the windows. You should have already considered all the windows on the plan, not just the front ones, so they can all be addressed during this meeting. The front elevation and its window styles are considered in one package. Additionally, the roof pitch (steepness) can be critical to the esthetics and the economics of the home. Prior discussion with your general contractor regarding the roof is very beneficial. Your and our pictures, drawings, and discussions will all be used to come to a consensus about how your new home will look (front elevation). We will have a quick discussion about electrical at this meeting but you are better served to let us make the first pass for you; it will be easier to modify what we suggest for you. The main exception to this is kitchen lighting, which is very personal. You should have researched your options prior to this session so you are prepared to make decisions. Also, if you have some special electrical requirements such as 220 V. in the garage, pool/hot tub equipment, or whatever, you are encouraged to discuss that with us at this time. Site plan details such as driveways and walks will also be discussed during the session. When we have worked through all these items, you can schedule the next review meeting, or wait till we give you a call as we finish your Super Sketch. This step takes a maximum of ten working days. Remember, we are typically a week out for appointments.
SECOND REVIEW
- This is your semi-final drawing; we call it the Super Sketch or Appraisal Copy (you can use them for bank appraisals). We will collect the second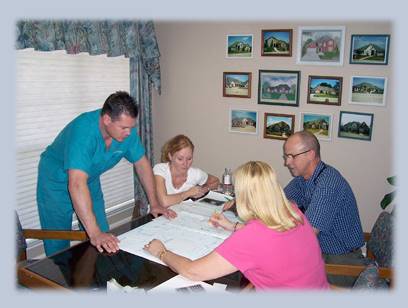 installment during this meeting. These drawings have incorporated all the discussed revisions, include electrical, the front elevation as discussed, and the site plan. They should be virtually the final versions omitting dimensions. You will be encouraged to discuss ANYTHING you are not clear on, and any revisions desired, particularly electrical. Again we encourage you to take them home, review and discuss them, and then come back for the final work session which we we can schedule then, or wait until you give us a call. Remember, we are typically a week out for appointments.
FINAL REVIEW
- This is the meeting where you release to final plans. We will need to know of ANY final tweaks that you desire. As is the case with all of our work, we guarantee that your final plans will be completed within ten working days (five days in a week). We will call you as soon as your plans are complete. You will not need an appointment to pick them up, just remember to bring a check for the final installment.
OVERVIEW
- While this is generally the process for new/revised work, there is always the potential for variations. Sometimes revisions are extensive enough for an additional review meeting before going on to the next step. Meeting times vary from one to two hours, and while we do have a limit on the amount of time we spend meeting, the allocated time is usually more than adequate. Should you prefer additional meeting time, or have philosophical changes to your plan, we simply charge by the hour in addition to the quoted base price. Take the time to download the DRAWINGS LIST and also look at WHAT'S INCLUDED, they will help you understand what you get, and when. We will guide you to make informed decisions so you understand and are pleased with your new home.
We have been involved in custom and revision design work since 1977, so we have a very good grasp of the process.
Our goal is your goal, to help you design your dream.
---
For additional information or questions CONTACT US.



© Envisioned, LLC
Send your comments and suggestions to: Webmaster